Bescon Glowing Halloween Polyhedral Dice 7pcs Set, Luminous Halloween RPG Dice Set, Glow in Dark Halloween DND Game Dice d4 d6 d8 d10 d12 d20 d% with Drawstring Pouch for Role Playing Games
The special Halloween role playing dice set has all the symbols about Halloween. And we have two versions: one solid black set with orange painting, and another glowing orange set!
Imaging playing with these unique dice at All Hallows' Eve, they will be the envy of all your friends!
This Luminous Halloween Dice Set glow in the dark after absorbing some light.
Each set includes a 4,6,8,10, 12, and 20 sided dice, along with a percentile die.
High quality Halloween velvet drawstring pouch included.
Quality control: No cracks, chips or damage. Every dice included is inspected before being packaged, ensuring that you'll only get the best dice here! Use as a DND dice set, Pathfinder, Magic the Gathering or any other game where you need lots of dice.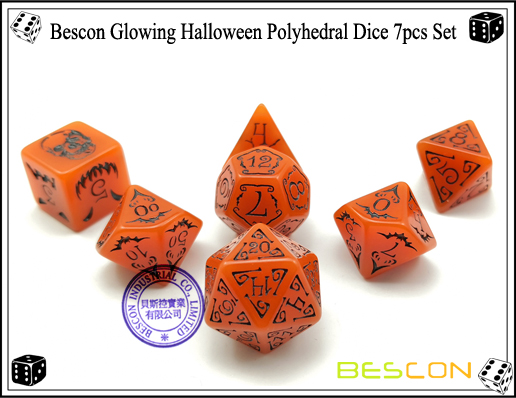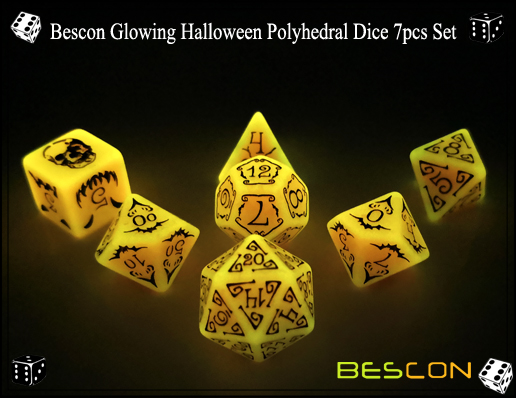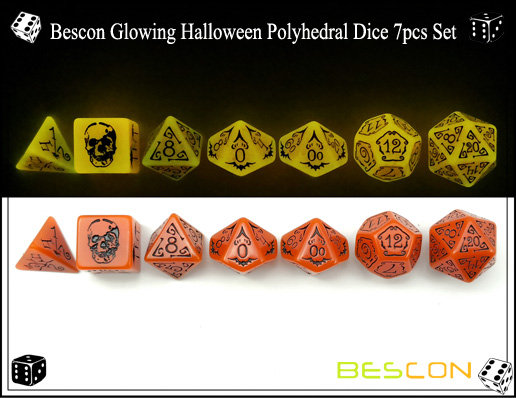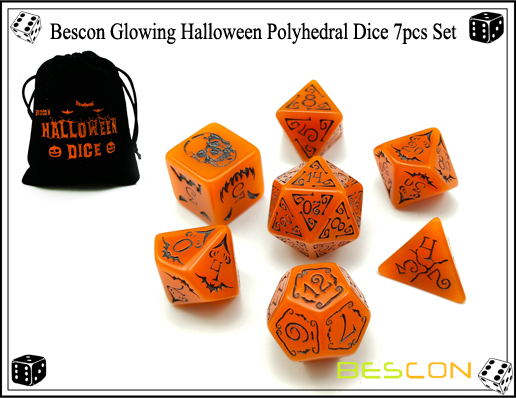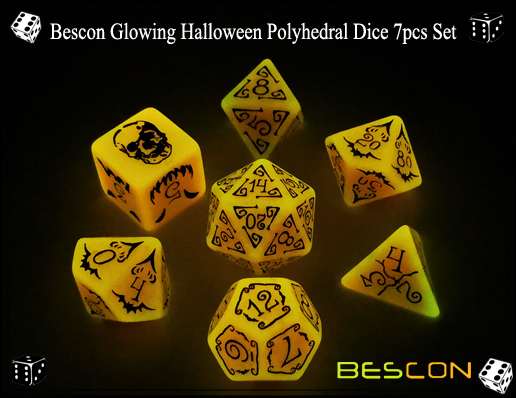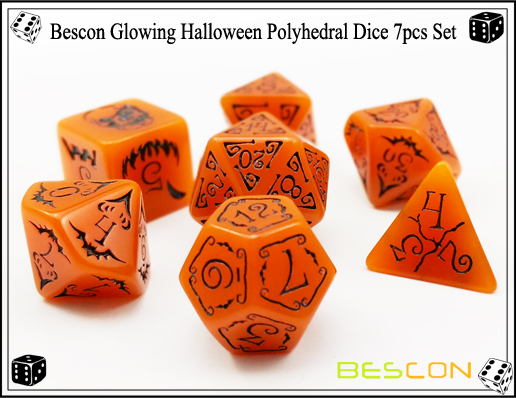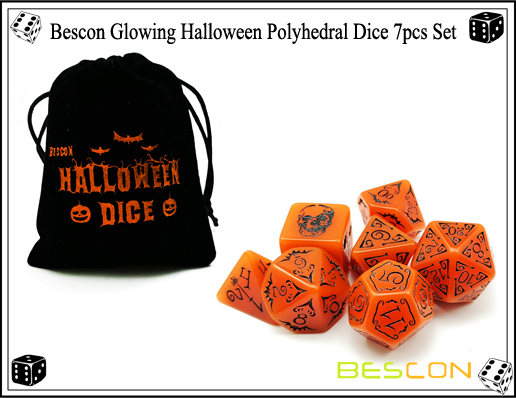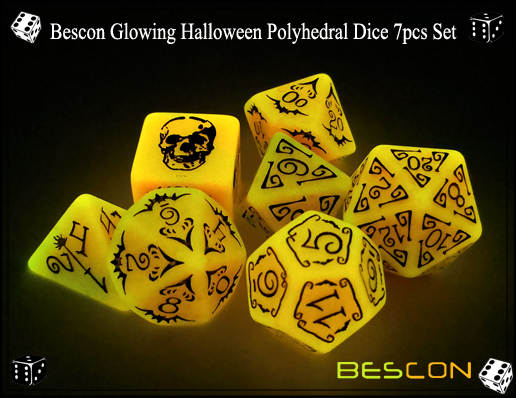 * Top quality luminous polyresin material
* 3D Etched patterns with orange painting
* Includes d4, d6, d8, d10, d12, d20, and percentile die
* Choking Hazard - Not for Children Under 3
* Halloween velvet drawstring pouch included
Get your game on with these amazing polyhedral dice and prepare for action and adventure! Each RPG dice set includes 7 game dice. Whether you`re exploring dungeons or fighting dragons these dice will get the job done in style.
Each Set Include
one 4 sided D4 Die

one 6 sided D6 Die

one 8 sided D8 Die

one 10 sided D10 Die

one 10 sided D%

Die

one 12 sided D12 Die

one 20 sided D20 Die
Material: Acrylic
| Dice Style | Length: | Height: | Width: |
| --- | --- | --- | --- |
| D4 | 22mm | 20mm | 22mm |
| D6 | 16mm | 16mm | 16mm |
| D8 | 15mm | 15mm | 15mm |
| D10 | 19mm | 16mm | 19mm |
| D12 | 20mm | 18mm | 20mm |
| D20 | 20mm | 20mm | 20mm |
| D100/10 | 19mm | 16mm | 19mm |